'I like to always buy second-hand guitars, because I know I'm going to write at least one or two songs with them. Because every guitar comes with its own history and the feeling of all the people who have used it before. That makes you play certain chords that you wouldn't play normally, and pushes you towards something new. If you're lucky, you'll get a song out of it'. - Neil Young.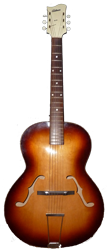 Updated site launching soon. Reviews and recordings of guitars including those made by Antoria, Aria, Commodore, Danelectro, ESP, Harmony, Hohner, Ibanez, Patrick Eggle, Ryoji Matsuoka, Schecter, and Simon & Patrick.
It's going to take me a while to get all the guitar brands listed on the left on to the site, so if there's a brand listed on the left you're interested in, it's worth checking the site again at a later date for updates.