From The Antoria Website:
ANTORIA GUITARS were first introduced into the UK from Japan in the early 1950's. Two of the earliest users of Antoria were Hank Marvin, there are pictures on the internet showing Hank playing his one on stage with The Shadows, and possibly Marty Wilde, as pictured on the sleeve of The Greatest Hits CD. The Guitars were originally imported by JT Coppock (Leeds) Ltd and Charles Summerfield Ltd.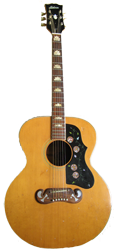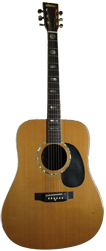 Probably the most famous Antoria is the 1970s 698M 'Western' Jumbo which can be seen in the Oasis 'Wonderwall' video and also being used by Noddy Holder in the 70s.
Having collected a number of Antoria guitars i've found a few things - some of made in Japan, some Korea, and my suspicion is that some of the earlier Archtop models may be European - possibly Dutch or German. Some are identical to Ibanez branded guitars leaving me in no doubt that some were also made in the the Fujigen Gakki (guitar) plant. Some however have anomalies that don't quite fit in with Ibanez models, but are still marked as being made in Japan. More to follow here soon - descriptions, images and sound/video files of the models I own or have previously owned.
Sound & Vision: Antoria 670-12